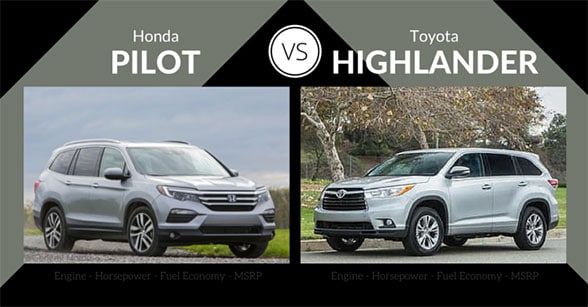 Both the Honda Pilot and the Toyota Highlander consistently rise to the top of the lists of the best midsize SUVs on the market.
Though both of these vehicles rank highly, there are some differences that may help to tip the scales toward one or the other.
Let's look at how they stack up against one another.
Pricing
The base price of the Honda is less than the Toyota, though keep in mind that the options you choose for either vehicle will change the price. When each vehicle is fully-loaded, the Highlander is slightly less expensive than the Pilot.
Comfortability
Both of these vehicles offer third-row seating but only the Honda's is roomy enough for adults to sit comfortably. As far as the actual seats go, the Honda also wins—it has some seriously cushy, comfiness going on!
The interior of the Honda is also more spacious, in general. A few inches of extra headroom or legroom here and there can make a big difference in how you feel in the vehicle.
Cargo space
When all the seats are laid down, these two vehicles have about the same amount of cargo space—roughly 89 cubic feet. The Honda Pilot has significantly more room for cargo when all the seats are in use.
Fuel economy
The Highlander and the Pilot both get a respectable amount of miles per gallon for SUVs of their size. What pushes the Pilot over the top is that the same level of fuel efficiency that comes standard in the Pilot can only be obtained by purchasing an upgraded model of the Highlander.
The winner
Either of these vehicles would make a fine family car, but there can only be one winner and the Honda Pilot achieves that top spot.
It's roomy, comfortable, and has a higher level of fuel efficiency, making it a cut above the Toyota Highlander.
Call Park Honda today to set up an appointment for a test drive! We'd love to show you the great features the Pilot has to offer.