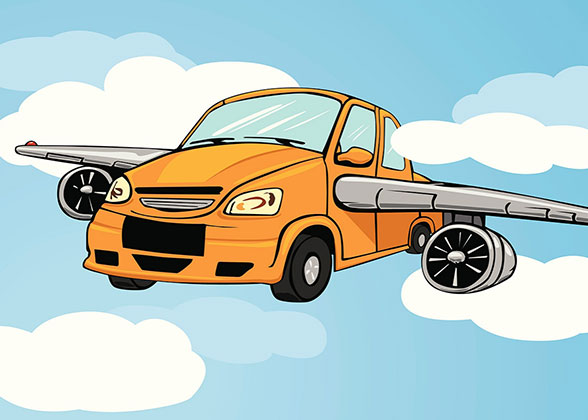 Sometimes, your best-laid plans don't quite pan out.
Most industries endure failures now and then and the automotive industry isn't immune.
Check out some of the big ideas that didn't live up to their high expectations.
1. Flying cars
It turns out Back to the Future wasn't the first time flying cars were imagined.
The Dymaxion was envisioned to lift off the highway at will, fly wherever its driver-pilot wanted, and then settle right back down into the flow of traffic.
Sounds silly, right?
But, Chrysler, Ford, Studebaker, and Packard were all interested!
2. The ultimate in luxury
The Stout Scarab was supposed to be the pinnacle of luxury automobiles.
It had swiveling seats and even a card table in the rear.
Unfortunately, the steep price ($5,000) wasn't a hit with potential buyers who felt the vehicle was not only too expensive but also too ugly.
3. Albert Augustus Pope
This visionary automaker was a proponent of the internal combustion engine.
Unfortunately, it was the early 1900's and his idea was shot down because the idea of sitting on top of an "explosion" was considered ludicrous.
4. It can hold a bicycle
When the 2001 Pontiac Aztek came onto the scene, its main selling point was that a bicycle could fit in the back.
Unfortunately, this oddly shaped rear made it a nightmare for drivers looking in their rearview mirrors.
The idea didn't take off and the Aztek is largely blamed as the final cause of Pontiac's demise.
5. Enter from the front
In the mid-1950s, the BMW Isetta was touted as an easy to enter and exit "microcar."
The one door for the vehicle was on the front.
What ultimately killed the idea was that the only escape in the case of an accident was through the sunroof!
We've come a long way
Some of the failed ideas of automotive industry were more poorly executed and a little too advanced for the time.
Others were downright silly.
At Park Honda, every vehicle on our lot is a winner! Come out and see us for a test drive today!