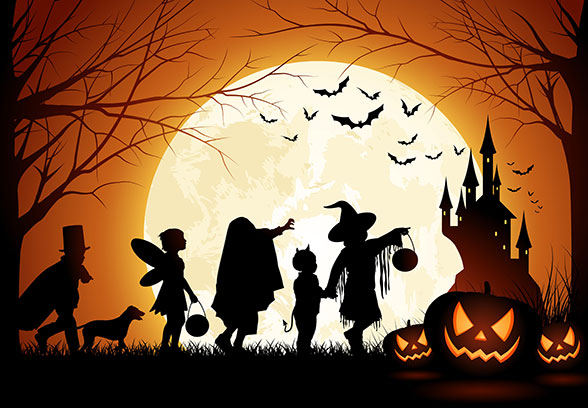 Ghosts and ghouls, skeletons and witches, vampires and werewolves.
If you're a Halloween enthusiast, you've probably been looking forward to October and the fun that goes along with this yearly celebration of all things scary.
Think you know everything there is to know about this fall favorite?
Let's see if your knowledge stacks up!
Did you know….
1. Costumes weren't always worn for fun?
Historians believe that Halloween originated with a Celtic pagan celebration called Samhain. Many people believed that the spirits of those who had recently died came back on this night to roam the Earth. Scared that there may be evil spirits afoot as well, people wore scary costumes to disguise themselves.
2. It's all about the Benjamins?
Halloween is second only to Christmas in how much money people spend to celebrate. Millions of dollars are spent on costumes, candy, and even pet costumes.
3. Being scared is euphoric?
Halloween brings out a different side of many people. Soccer moms and accountants flock to haunted houses and watch scary movies just for the thrill of the scare. Turns out, scientists say being scared in a controlled environment is the ultimate excitement for many!
4. The most popular costume is…..a witch?
While the witches hold the top spot, you'll also see your fair share of vampires, pirates, zombies, princesses, cats, and superheroes.
5. It isn't just for kids?
Two out of every three adults will celebrate this fall festivity in one way or another. They may attend parties, dress up for work, or visit a haunted house.
6. Jack-O-Lanterns weren't always made from pumpkins?
Celtic people attempted to scare away those pesky evil spirits with turnips carved into scary faces. You read that right. Turnips!
7. The sugar rush is real?
Trick or Treat candy is no joke in America. October 28th historically has the highest number of candy sales of any other day on the calendar. The most popular sweet treat? Snickers!
Safety first
As you enjoy whatever Halloween festivities you choose to engage in, remember to stay safe!
If you're in the market for a new vehicle to transport your little ghouls and goblins, come see us at Park Honda!
We'd love to be a part of your spook-tacular Halloween celebration!