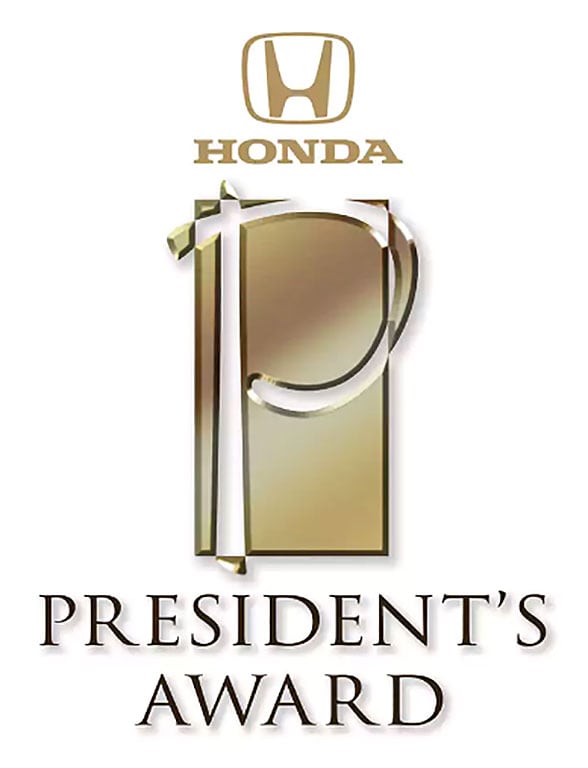 And the Award Goes To...
To be recognized for outstanding achievement in your field is always a wonderful feeling.
This year, Serra Honda is a proud recipient of the Honda President's Award program.
It's something we're proud of, because it recognizes what we do behind the scenes to give our customers the best possible experience when buying a car.
This acknowledgement is reserved for Honda dealerships that have displayed excellence in the areas of:
Sales performance.
Sales experience.
Service performance.
Business operations.

Let's take a look at the criteria for each of these categories.
Sales performance
There are standards that must be met for:
New Vehicle Sales (NVS)
Meet 100% of goal
Retail Sales Effectiveness (RSE) standards
Honda Certified Pre-Owned Vehicle sales (HCPV)
HCPV to NVS ratio of 16:1

Sales experience
The criteria for this category include:
Vehicle Features and Delivery Index (VFDI)
Minimum score of 94
75% of submitted email addresses must be valid
Customer Personalization Index (CPI)
Minimum score of 94
Personalized Settings Worksheet (PSW)
Minimum score of 94

Service performance
In this area, the dealership has to meet these standards.
Customer Service Experience (CSE) esurvey
Minimum score of 91
Dealer Service Retention Performance (DSRP)
Rate must be average or above average

Business Operations
The criteria for this category include:
Profitability
Dealership must be profitable as of the financial statement on the previous November.
Brand Representation (Image-Approved)
Must be image-approved by the zone management team

A team effort
This award distinguishes Serra Honda as a top performer among Honda dealers across the country.
The honor isn't due to the work of just a few people.
It's a true collaboration of each team member's individual commitment to excellence.
And it means better service for our customers.
It's not only about the quality of the Honda vehicles we offer but also the People Pleasin' attitude that all Serra dealerships have become known for.