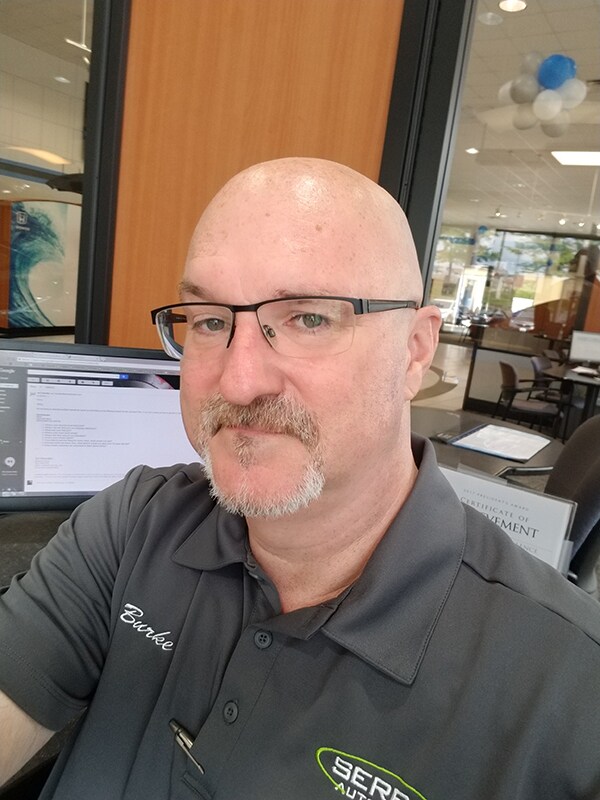 At Serra Auto Park, we're serious about putting our customers first.
People Pleasin' is more than just a motto to us.
We understand how important it is to our success to have people like Product Specialist Burke Davis on our team.
Burke grew up in Akron and is a graduate of the University of Akron.
He's been with Serra for almost 20 years, starting in 1999 when it was still Park Auto Group.
Thanks to Burke for answering some fun questions to let you get to know him better.
Here's Burke!
What's your favorite local food joint?
Rose Villa
Where can we find you on a Sunday afternoon?
At home with the family – wife Nancy and two daughters.
What was your first job?
Harry's Seafood Market in Akron
What's your most-used emoji?
What was the first concert you attended?
The Who
What's your hidden talent?
Singing and building computers
If you had to eat one thing for every meal, what would you eat?
Chicken pot pie
Knowing what you know now, what advice would you give your 18-year-old self?
Be confident, no matter what.
What would customers be surprised to learn about Serra?
We have 50 stores and over 500 salespeople.
Stop in and see Burke's friendly face at Serra Auto Park – maybe he'll sing for you!