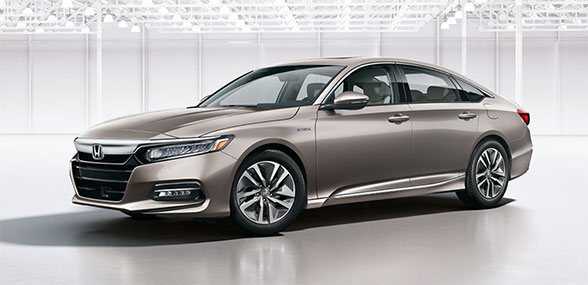 Honda vehicles have been known for their safety, reliability, and all-around awesome-ness for many years.
When something works, why change it, right?
There was no need to worry about the 2018 revamp – it's still the best mid-size sedan on the market and another home run for Honda.
Let's dive into some of the best features of the 2018 Honda Accord.
What's new?
The Accord's been almost totally updated, including three new engine options and a fresh exterior design.
What hasn't changed is the stellar handling, the roomy interior, and the reasonable price.
The highlights
State-of-the-art infotainment system
Two turbocharged four-cylinder engines
Top-of-the-line safety technology that now comes standard
A manual transmission is available

Interior
The spaciousness of the interior blows competitors out of the water.
For example, the leg room in the rear seats has been extended by two inches and your passengers will enjoy the most comfortable ride of any mid-size sedan in the same class as the Accord.
Gas mileage
For the Accord LX 1.5T: 30 mpg in the city, 38 on the highway, and a combined mpg of 33
For the Accord Sport 1.5T: 29 mpg in the city, 35 on the highway, and a combined mpg of 31

The downside
Interior storage isn't up to Honda's usual standards
Available models
LX
Sport Manual
Sport CVT
EX
EX-L
Sport 2.0T Automatic or Manual
EX-L 2.0T
Touring
Touring 2.0T

Price rangeThe bottom line
Clearly, the 2018 Honda Accord is a top pick for a family sedan.
Now that you have the scoop, you're ready to come and try it out for yourself!
Come see us at Serra Honda and take your new Accord for a spin!