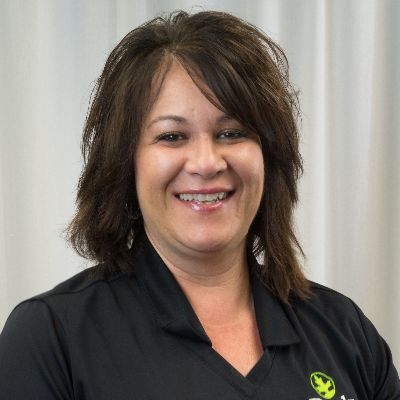 We want the first faces you see when you enter any Akron-Canton Serra dealership to be friendly and welcoming.
We wouldn't be who we are today without the VIP treatment that our customer service experts like Serra Honda's Lori Walter provide.
Lori is an Akron-Canton hometown girl. She's from Mogadore and graduated from Mogadore High School and the University of Akron.
She's sharing life with an amazing man named Steve and their combined seven children, including three teenagers at home: Jaret, Leah, and Mikey.
Let's learn a little more about what makes Lori so special and such an integral part of our Serra family.
Lori's Loves
What's your favorite local food joint?
I'm having a big love affair, with El Gato Loco right now! HOT and SPICY Burrito, yum yum!
Where can we find you on a Sunday afternoon?
Sunday afternoons are spent playing games of chance at Hollywood Casino, or if it's football season, I'm a Pittsburgh Steelers junkie!
What was your first job?
I was 16 and worked for Lawnmark as a telemarketer, convincing potential customers to let us give them a lawn estimate for a weed and feed!
What's your most-used emoji?
Heart kiss-face or smiley face! It's a toss up!
What was the first concert you attended?
ZZ Top at Blossom, under the Pavilion. I'll never forget when they (ZZ Top) asked us to pull out our shades (sunglasses) and they played Cheap Sunglasses. Too bad the tickets weren't cheap!
What's your hidden talent?
I'm actually a pretty good scrapbooker!
If you had to eat one thing for every meal, what would you eat?
Do Reese's Cups fit in all the food groups?
Knowing what you know now, what advice would you give your 18-year-old self?
LISTEN MORE, TALK LESS!
What would customers be surprised to learn about Serra?
I truly believe customers have a misconception of the auto industry. Prior to working for Serra, I did! We really do care about the customer and their overall experience when visiting our dealership. Our motto "People Pleasin" isn't a gimmick – we sincerely want to "People Please" our customers/guests. It's the ultimate goal!
Stop in and see Lori's friendly face at our Serra Honda location!