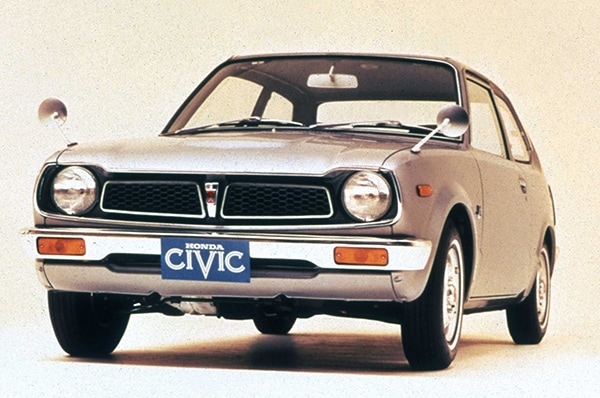 Honda remains one of the most dependable brands in automotive history.
But where did it come from?
Here's a look at a timeline of Honda history.
1948-1949
Honda was officially founded by Soichiro Honda and Takeo Fujisawa.
Their first originally-designed and engineered vehicle – the "Dream" D-Type motorcycle.
1959
On June 11, Honda said hello to its first overseas subsidiary.
The American Honda Motor Company, Inc. was established in Los Angeles.
1969
Having previously focused on motorcycles (the one-millionth was sold in the United States in 1968), the first car was sold in America.
It was the Honda N600.
1974
The Honda Civic became the first vehicle to meet the emissions standards of the brand-new U.S. Clean Air Act without the use of a catalytic converter.
The key? The groundbreaking CVCC engine.
1976
The very first Honda Accord hit the scene.
It was a hatchback but was followed by the more-familiar sedan in 1979.
From that time until today, the Accord has remained the best-selling passenger car in the United States.
1984
The American Honda Foundation was created to support the communities in which Honda manufacturing facilities are located.
To date, they have given over $32 million to organizations in every single state in the country.
1986
Honda launched Acura, which was the first luxury brand from a Japanese auto company.
1990
The Acura NSX took its place in the realm of supercars.
It was the first car with an all-aluminum monocoque body.
1999
The Honda Insight becomes the first hybrid sold in North America.
2006
The Civic and the Ridgeline both take the top prize for North American Car and Truck of the Year.
2009
Honda celebrates its 50th birthday.
2014
The 10-millionth Accord rolled off the assembly line in North America.
2016
The Honda Clarity was introduced as the first car with zero emissions.
It's hydrogen-powered and emits only water vapor.
The Honda Civic also won the North American Car of the Year Award again.
2017
The Ridgeline was once again named North American Truck of the Year.
2018
The Honda Accord followed in the footsteps of the Civic and won the award for North American Car of the Year.
The Honda legacy
Are you ready to join the Honda family?
Or maybe you're already a loyal fan who's ready to upgrade.
Come and see the folks at Serra Honda for help!