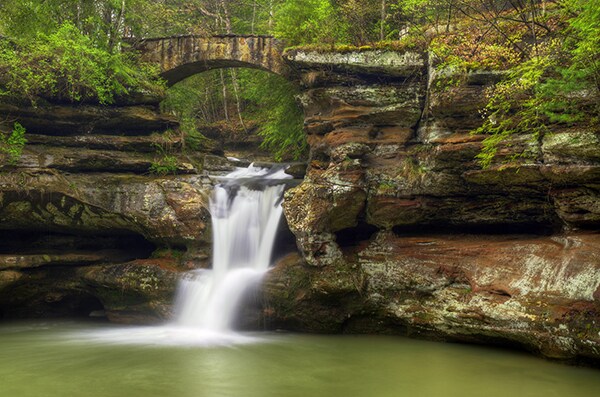 There's nothing more exciting than hitting the road for a one-tank-trip.
It's just far enough that you feel like you're getting away but close enough to be affordable.
Ohio offers a lot of fun, interesting, and beautiful drives that are only a tank away from the Cleveland area.
Take a look – you'll have a hard time choosing where to go first.
Hocking Hills
There are caves to explore, trails to hike, fish to catch, and waterfalls to marvel at.
You can camp or rent one of the many lodgings available in the heart of the hills.
If you like to look at nature instead of investigating it, you can always curl up in a cozy cabin with a good book and a great view.
Mill Creek Park
Situated 74 miles southeast of Cleveland is Youngstown.
Youngstown is home to Mill Creek Park, which is the perfect destination if you enjoy fishing, boating, hiking, biking, or golf.
You can even take in some live entertainment during the warmer months of the year.
South Chagrin Reservation
As part of the Cleveland Metro Parks, this trip won't even come close to using up a whole tank of gas – it's only 30 minutes outside of Cleveland – but it's a worthwhile destination all the same.
You can exercise, go horseback riding, fish, hike, bike, or take in the nature center.
The best part? You won't even need an overnight bag.
Tree Frog Canopy Tours
You'll find this gem nestled in the trees of Glenmont, a stone's throw from Amish Country, in Holmes County.
Not for the faint of heart, these zip lining tours are 85 miles south of Cleveland and feature over 4,000 feet of zip line, all above the trees.
It's a chance to see the beauty of the area from a whole new breathtaking perspective.
Travel in style
Whether you choose to stay closer to home and visit the South Chagrin Reservation, make the journey to Hocking Hills, or somewhere in-between, make sure you have a vehicle that's up for the trip.