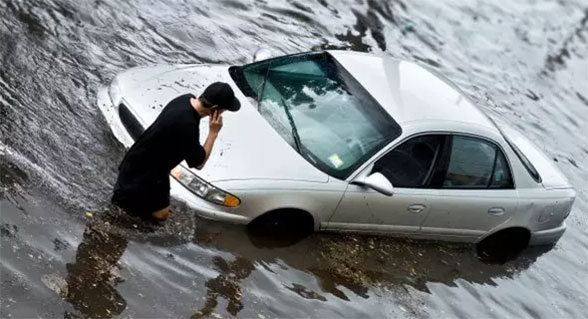 Buying a used car can be nerve-wracking.
You want to be certain you're getting a vehicle that's in great condition and will serve you well for years to come.
One of the concerns that you may have is ending up with a vehicle that has flood damage.
It's important to note that a flood-damaged car can be a wise purchase as long as it was repaired properly.
Answering these five questions will help you detect a flood car before you buy.
1. Is there an odor?
A vehicle that hasn't been properly cared for after receiving water damage will have a musty or moldy smell.
Get close to the carpets and upholstery and take a sniff.
2. Is there any corrosion?
Take a good look at any exposed metal components on the interior – such as the seat-tracks.
If you see any rust or corrosion, there's a good chance the vehicle was submerged.
3. Is there any fabric discoloration?
Mold and mildew will leave dark spots on fabric.
Another sign to look for is an area of lighter fabric, which could indicate that the previous owner tried to spot-clean with bleach.
Don't forget the trunk. It's common for water to collect there.
4. How does the air filter look?
If the air filter has water marks, it's a sign that the vehicle wasn't properly repaired after being flood-damaged.
Think of the way a piece of paper looks after it has gotten wet and then dried.
5. Are there any obvious water lines?
Look on the inside of doors and check under the hood for water lines on the firewall.
These are indicators that the car has experienced flood damage and hasn't been adequately restored.
Get a high-quality used car
Finding a used car doesn't have to be a headache when you know what to look out for.
Working with a trusted dealership can also help you to avoid getting a lemon. At Serra Honda, we take pride in offering a quality selection of used vehicles that pass our stringent checklist for used vehicles. Come see us for help buying your next pre-owned vehicle!