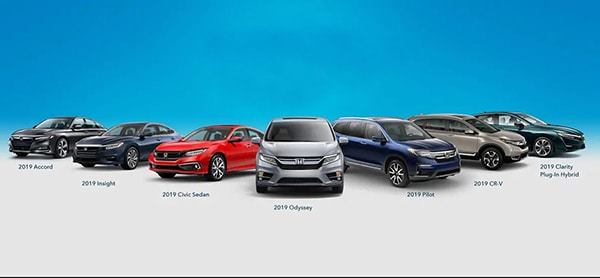 It's all about that Honda.
Not only is the brand getting ready to celebrate its 40th year making products in America (in September), but there's another reason to pop the cork on the champagne.
Actually, there are 6 reasons.
Cars.com has named 6 Honda vehicles to its 2019 Top Ten American-Made list.
Here's what you need to know.
The line-up
Take a look at where your favorite Honda and Acura vehicles fall on the list.
2nd Place: 2019 Honda Odyssey

3rd Place: 2019 Honda Ridgeline

4th Place: 2019 Honda Passport

6th Place: 2019 Acura MDX

7th Place: Honda Pilot

10th Place: Acura RDX
A bonus? Both Acura models that made the list were manufactured right here in Ohio.
The winning factors
Here are the factors that Cars.com looks at when deciding on a top ten list each year.
Assembly location.

Domestic parts content.

U.S. factory employment adjusted by sales.

Engine and transmission origin.

In the event of a tie, heavier curb weight is taken into account.
Honda in the U.S.
As we already mentioned, Honda has been in the American-manufacturing game for nearly 40 years.
There are 12 operating facilities in the country, providing 20,000 jobs. Plants are located in:
East Liberty, Ohio.

Greensburg, Indiana.

Lincoln, Alabama.

Marysville, Ohio.

Colton, California.

Anna, Ohio.

Raymond, Ohio.

Tallapoosa, Georgia.

Greensboro, North Carolina.

Swepsonville, North Carolina.

Torrance, California.

Russells Point, Ohio.
Did you notice that almost half are located right here in Ohio?
As of 2018, Honda had produced more than 1.2 million automobiles in the U.S. and 65% of all Honda and Acura vehicles sold here were made locally.
Honda has invested upwards of $20 billion into the United States' economy.
Time to get your Honda on
Honda continues to be an award-winner in many categories, including resale value and safety, by other organizations in addition to the recognition from Cars.com.
It's a great time to visit Serra Honda and take one of our quality vehicles for a spin. You may get hooked on one of America's most popular brands.
Plus, when you purchase a new Honda (or Acura) vehicle, you're contributing to your local economy.
Our friendly and knowledgeable sales staff is waiting for you!