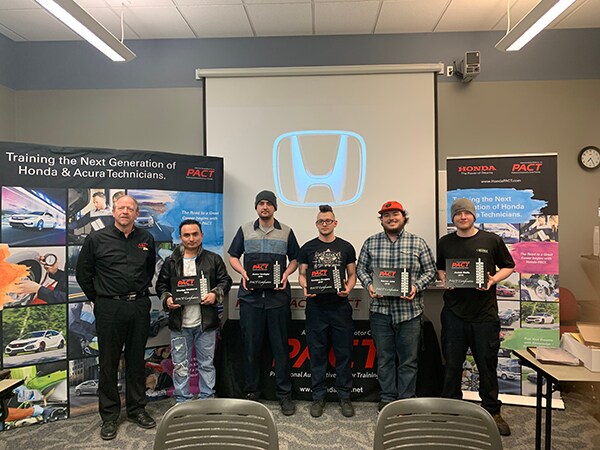 We're all about excellence at Serra Honda.
With that being said, congratulations are in order!
Four of our Honda Techs just graduated from the Honda PACT (Professional Automotive Career Training) program.
Best and brightest
The PACT program is no joke – it's rigorous and only top-notch techs actually complete it.
Nineteen potential Techs started the program and only 10 graduated with their certifications.
The graduates come out of this quality program with the knowledge and skill to handle the issues that affect Serra Honda and Serra Auto Park customers and their vehicles.
Honda PACT instructor, Doug Sammons, is on the Serra team and only refers his best and brightest to us – like these four graduates.
We're proud of our Serra Honda family members: Zach Gregory, Steven John, Josiah Wells, and Andrey Dyshko!
**photo**
(From left to right, Doug Sammons, Zach Gregory, Steven John, and Josiah Wells. Andrey Dyshko was unable to attend.)
Welcome our freshly-minted techs
We'd love for you to stop in to Serra Honda and give our graduates a pat on the back and a big "Congratulations!"
With the esteemed Honda PACT program under their belts, Zach, Steven, Josiah, and Andrey are ready to put their skills to good use for you.