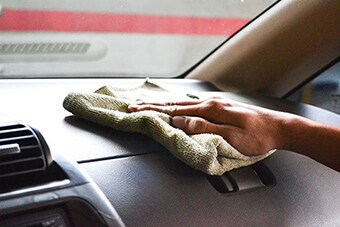 Editor's note: This post was originally published on 10/13/16 and has been updated for accuracy and comprehension.
Everybody likes the way a clean vehicle feels.
Even if you clean your car out regularly, removing garbage and personal items, the normal wear and tear from using your vehicle to get to work and cart kids around means it's natural for the vehicle to get dirty.
It won't take you long to give it a good tidying up, especially with these quick tips. You'll have your car looking like new again in no time.
You'll need these supplies
Here's what you need to have on hand:
A garbage bag.

Cleaning wipes designed to use on a car.

Glass cleaner.

Vehicle HVAC cleaner.

Paper towels.

A handheld vacuum.

A small bin.

A screwdriver
5 Steps to Clean
Step 1: Gather up all the items that don't belong in the car. Place them in the bin. Throw all the trash in the garbage bag. Spray glass cleaner into the cup holders and let them soak.
Step 2: Take a wipe, and go to work on the vehicle. Wipe down the dash, the door pockets, gearshift and steering wheel. Spray the vents with the HVAC treatment.
Step 3: Take the screwdriver and wrap a wipe around the head. Use it to clean out cracks and crevices. Use a paper towel and clean out the cup holders.
Step 4: Clean the windows with glass cleaner.
Step 5: Take the floor mats out and vacuum them. Then, vacuum the upholstery, starting with the front seats, then the back. Next, clean the floors. Put the mats back.
Voila! You're done.
Take a deep breath and enjoy
In just a few minutes, you can give dirt and mess the boot!
Gather your supplies, follow the steps, and admire your clean vehicle.
For more car care tips or to check out the latest additions to the lot, contact Serra Honda today!