2016 Honda HR-V

Introducing the Honda HR-V, a dynamic, fuel-efficient small SUV with sleek styling and next-generation connectivity. This all-new vehicle recently made its world debut at the New York Auto Show. Its clean character lines are complemented by hidden rear door handles, giving the SUV a sporty presence.
As part of Honda's light-truck lineup, the HR-V is built on a unique center-tank layout and offers a versatile, spacious interior. It's equipped with the Honda-exclusive Magic Seat®, so you can fold the second-row seat completely flat for added cargo space and greater flexibility. Smaller than the CR-V, the HR-V SUV is an ideal size for both city streets and mountain roads.
The Honda HR-V SUV will be available this winter.
Source [
automobiles.honda.com
]
---

Next Generation Ridgeline



In 2005, the Ridgeline redefined pickup trucks with industry firsts such as an integrated closed-box frame, dual-action tailgate and large In-Bed Trunk®. The next-generation Ridgeline is poised to break even more ground.
Source [
www.honda.com
]
---

Urban SUV Concept

An all-new Honda concept vehicle made its world debut at the North American International Auto Show 2013 (NAIAS) in Detroit. The concept hints at a dynamic, fuel-efficient small SUV with aspirational styling and next-generation connectivity. Its clean character lines are complemented by hidden rear door handles, giving the SUV a coupe-like presence.
The new concept is shorter than the CR-V, making it an ideal size for both city streets and mountain roads. It's poised to join the Honda light-truck lineup, with the Honda-original center-tank layout and a configurable Magic Seat® for a host of cargo and passenger options.
This vehicle is slated to launch in Japan later this year, with expansion to the U.S. market in 2014.
Source [
www.honda.com
]
---

FCEV Concept



The sleek Honda FCEV Concept made its world debut at the Los Angeles International Auto Show (LAIAS) on November 20, 2013.
The Honda FCEV Concept features sweeping lines and an ultra-aerodynamic body. The Honda FCEV Concept also delivers ample passenger space and seating for five adults, thanks to new powertrain packaging efficiencies.
The concept hints at Honda's next generation of fuel-cell vehicles, which are expected to launch in the U.S. and Japan in 2015, followed by Europe.
Source [
www.honda.com
]
---

2014 Honda Civic

The 2013 Civic was our best Civic yet, but we're always reaching for more. On November 20, we revealed a host of new updates for the 2014 Civic Sedan, Coupe and the rest of the Civic family at the Los Angeles Auto Show. With an updated interior, standard Expanded View Driver's Mirror and an available 7-inch Display Audio touchscreen, the 2014 Civic is more forward thinking than ever.
Source [
www.honda.com
]
---

2015 Honda Fit






The 2015 Fit is getting a major upgrade from the ground up. Building upon the current model, the new Fit features aggressive new styling and improved fun-to-drive spirit, plus:

-Advanced connected car technologies
-Increased cargo capacity
-Enhanced fuel economy[1] and performance
 
[1] Preliminary mileage ratings determined by Honda. Final EPA mileage ratings not available at the time of printing. Use for comparison purposes only. Your mileage will vary depending on how you drive and maintain your vehicle.

Source [www.honda.com]

---


Honda is proud to announce the world debut of the Fit EV Concept. This advanced electric vehicle is designed to meet the daily driving needs of an average commuter, utilizing the same 5-passenger layout found in the popular Fit hatchback. The Fit EV Concept is propelled by a high-density motor derived from the FCX Clarity fuel cell electric vehicle and features a 3-mode drive system adapted from the CR-Z sport hybrid. A pocket-friendly interactive remote can link to the vehicle without the need for an Internet connection or mobile phone signal. Through this remote, drivers will be able to remotely view the vehicle's state of charge, initiate charging and activate the air conditioning, even while connected to the grid, reducing the drain on battery at start-up. An application for smartphones and a website for personal computers offer the ability to set charging notifications and alerts to optimize utility rates and provide 24-hour roadside assistance along with a public charging locator. Battery recharging can be accomplished in less than 12 hours when using a conventional 120-volt outlet and less than six hours when employing a 240-volt outlet. The Fit EV will achieve an estimated 100 miles driving range per charge using the US EPA LA4 City cycle (70 miles when applying EPA's adjustment factor), well more than the average number of miles driven daily by most commuters. The Fit EV is scheduled to go on sale in the U.S. in 2012. Be sure to sign up for e-mail updates to receive all the latest news regarding this exciting vehicle.
---


The plug-in hybrid platform showcases Honda's next-generation two-motor hybrid system. Integrated into a mid-size sedan platform, the plug-in hybrid is designed to be compatible with daily driving habits, allowing for short, frequent trips in all-electric mode, while providing long-distance, fuel-efficient driving capability when needed. The Honda two-motor system continuously moves through three different modes to maximize driving efficiency: all-electric, gasoline-electric and a unique, engine direct-drive mode.
The plug-in concept has an all-electric range of 10?15 miles, with a top speed of 62 mph. Fully recharging the battery will take only 2?2.5 hours using a standard 120-volt outlet or 1?1.5 hours using a 240-volt outlet. The vehicle can also run in a gasoline-electric hybrid mode, powered by a fuel-efficient 2.0-liter, i-VTEC
®
inline 4-cylinder Atkinson cycle engine and paired with an electric continuously variable transmission (E-CVT). For more efficient high-speed cruising, the vehicle can engage in a direct-drive mode, in which only the engine drives the front wheels.
---


Conceived around a small "footprint" for maximum convenience in tight urban settings, P-NUT features a sleek exterior design that allows for a spacious and open interior with excellent visibility. The layout of the interior space, with its center driving position flanked by two rear seats, provides generous legroom for all occupants in a vehicle that has an exterior footprint similar to an ultra-compact car. The modular rear engine bay is designed to accommodate a wide variety of potential propulsion technologies including a conventional small displacement internal-combustion engine, a hybrid gasoline-electric powertrain, or a battery-electric powertrain.
---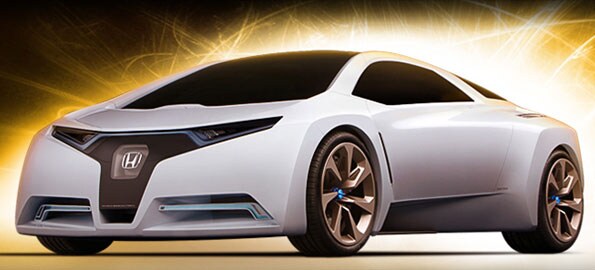 The FC Sport can be summed up like this: Imagine beating your best lap time while hearing nothing but the tires rubbing the tarmac and the quiet buzz of the high-torque electric motors. Picture a true no-holds-barred supercar with all the speed, handling and sleek looks of today's fastest sports cars, yet without the noise, heat, vibration and emissions of the internal-combustion engine.
Built as a design study, the FC Sport demonstrates Honda's vision for making environmentally responsible vehicles that are also fun to drive. The "FC" stands for "Fuel Cell" as in hydrogen fuel cell?the same technology powering the FCX Clarity. With a 3-seat, driver-centered cockpit, a fuel cell powerplant opens the door for unprecedented engineering flexibility, allowing for a lower center gravity than any modern, piston-engined sports car. The FC Sport is symbolic of a future in which alternative fuel and zero emissions will rule the sports car world.
---


At 800 pounds and powered by compressed air, this is not your average concept vehicle. Envisioned for the L.A. Auto Show Design Challenge by the Honda Advanced Design Center in Pasadena, CA, the Honda Air is another take on the future of alternative-powered vehicles. The Design challenge rules were simple: envision a 1,000-lb., four-passenger vehicle that is both comfortable and safe, while delivering excellent driving performance. With a design inspired by modern roller coasters and skydiving wing-suits, this is a four-passenger vehicle that will definitely make an impression in the carpool lane. Be sure to check out the gallery to see more and sign up to get more Future Car updates directly to your inbox.
---
Future Honda models,concepts,future Hondas,future Honda cars,park Honda,Honda dealer,future cars.Check out some of the future Honda Models And Concepts on our website.