Serra Honda Awarded For Outstanding Service (Again!)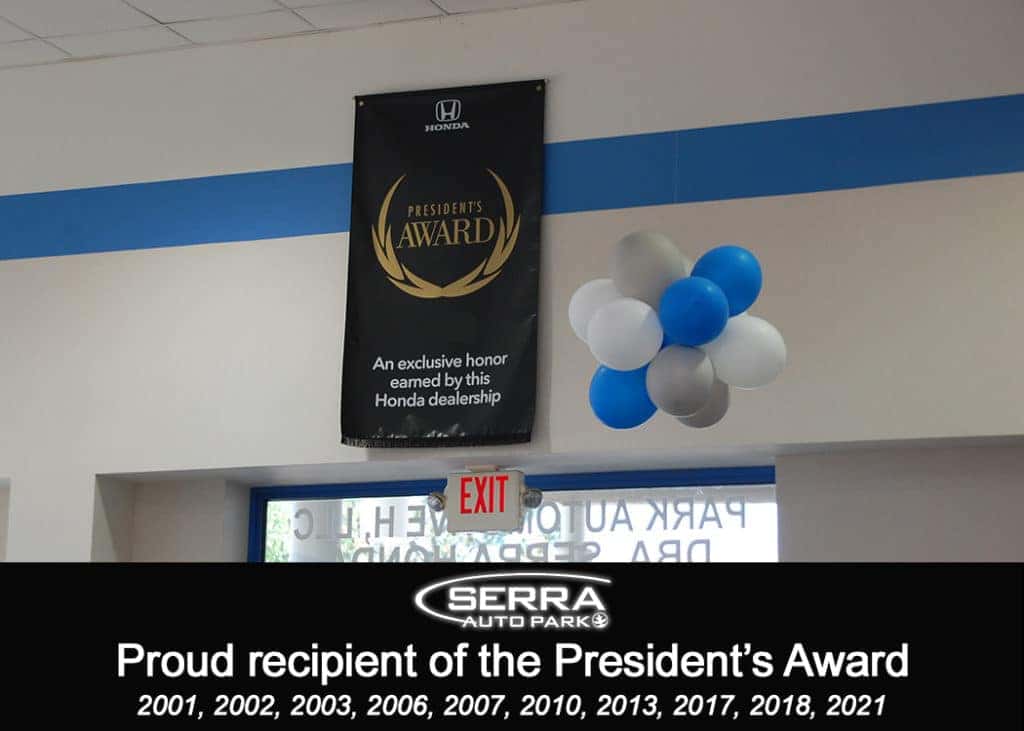 We strive to make the process of buying and servicing your car easy and stress-free.
In fact, our customers probably don't even notice these efforts. They just get to appreciate them on the receiving end.
That's why, when we earn an award for something that comes naturally to us, it kind of makes us just a little proud.
So, today, we're tooting our own horn!
Drumroll please…
Serra Honda has, once more, earned the 2021 President's Award from American Honda Motor Co., Inc. – for the fourth time in the past 10 years!
This prestigious honor recognizes Honda dealerships that deliver an outstanding customer experience while achieving operational excellence.
And it's the highest accolade that a Honda dealership can receive.
So, it's a pretty big deal!
Here's what it means for you, our customer.
We're Here For You
We know that customer service matters to you, and that's why we prioritize it so highly!
From making scheduling service appointments easy and painless to having a knowledgeable and friendly team to help you pick out your dream car, we want you to leave feeling satisfied.
You're more than just a number to us; you truly matter!
If you're looking for a local Honda car dealership near Akron/Canton that offers a seamless car-buying and servicing experience, look no further!
The Car-Buying Customer Service You Need
We're not here to pressure you, rush you, push you, or waste your time. *Pinky Swear*
We're attentive to your needs, and we truly care that you get the most out of your car-buying experience with us.
Our team works hard to ensure that you have a painless, seamless experience with us.
It's important to us that you feel seen and valued along the way through intentional communication and follow up.
That means that you can count on our team to go above and beyond to help you find your dream car at a great price.
Our Highly Rated Service Department
You can also count on a great service department that will get you in and out as quickly and efficiently as possible, without sacrificing quality.
Working with an efficient service department is a big deal. We know you have things to do and places to be.
Who wants to spend hours waiting to get your oil changed?
Answer: no one! And you shouldn't have to, either!
We understand the importance of getting in and out quickly and not having to worry about whether or not your car was serviced correctly.
Experience Serra Honda's Customer Service
Whether you're in the market for a new car, preowned car, or looking to service your existing car, here at Serra Honda, we can't wait to provide you with an excellent customer service experience at every turn!
Give us a call or come into our Akron location today!